Essentials Group Training Schedule
Do you go to the gym and do the same routine every time or take the same spinning class week after week? Bored with the usual exercises? Frustrated with a lack of results?

Our bodies quickly adapt to exercise stimulus, and need constant change to continually improve.

Ask yourself, "Are you getting the results you want from your exercise routine?"

If the answer is no, it's time you change up your routine.

For Women

Full Body Shaping, Cardio Conditioning, Fat Burning, Scientific

Mon

Tues

Wed

Thu

Fri

Sat

6am

6am

6am

6am

6am

8am

8am

8am

8am

8am

9am

6pm

6pm

6pm

6pm

10am

7pm

7pm

7pm

7pm

For the Guys

Strength, Metabolic Conditioning, Performance

Tues

Thu

Sat

5:30am

5:30am

9am

7pm

7pm

Are you ready for something different? Leave it to HealthStyle Fitness to be on the cutting edge and bring the hottest fitness craze in North America to Cincinnati. HealthStyle Fitness is excited to offer Group Fitness Coaching. It seems so new, yet this type of fitness has been around for over 150 years. How do we explain it? Many people strength train with weights while others do cardio or metabolic exercise - somewhere in between is our group fitness coaching. Now you get the benefits of both. Your body will get stronger, your cardiovascular fitness will improve and you will burn calories and watch your body change.

It's been on every major news station and is being used by major league sports teams. Even one of the most popular Hollywood stars in the world changed her body, her career and is teaching other women the power of fitness with her own workout video based on this phenomenal training system.

Group fitness coaching, with certified instructors, uses scientifically designed programs and tools including kettlebells, dumbbells, ropes, medicine balls, TRX's and other fun, different equipment. This type of training is a great ways to continually shake things up and gives you a full body workout, burns a ton of calories and gets your metabolism going.

There is absolutely no way to describe this workout without inviting you to try it.

We offer a 30 DAY TRIAL MEMBERSHIP FOR $89.00, so come and give it a try and see for yourself how really different it is.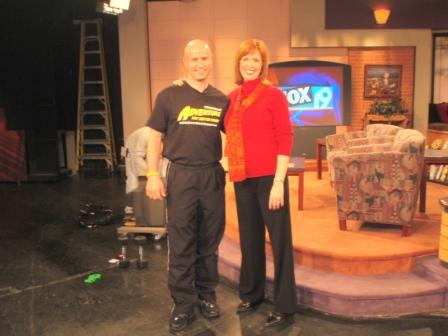 Teaching Cincinnatians How to Safely & Effectively Lose Weight, Get In Shape & Dramatically improve Their Health Energy & Vitality ...